Moroccan Artisans at Work
In Morocco, things are still done the old way, by hand. Generations of men and women have learned the trades of their parents and grandparents and keep them alive. I never get tired of walking through the souks and fonduks to admire the work and I think anyone who comes to Morocco and wants to shop should do the same before purchasing items.
Why?
It's amazing to see the work that goes into each piece and you will gain a new appreciation for the love and talent that goes into the work. It also might make anyone think twice before offering a dirt cheap price for something that may have taken days to make. I had my first ah-ha moment when we went to Safi and toured the pottery making factories. Three days or more to make a bowl and half a dozen different artists having had a role in the process for a selling price of maybe  Shocking.
I thought it would be interesting to introduce you to some of the artists in Marrakech.
Plaster Carving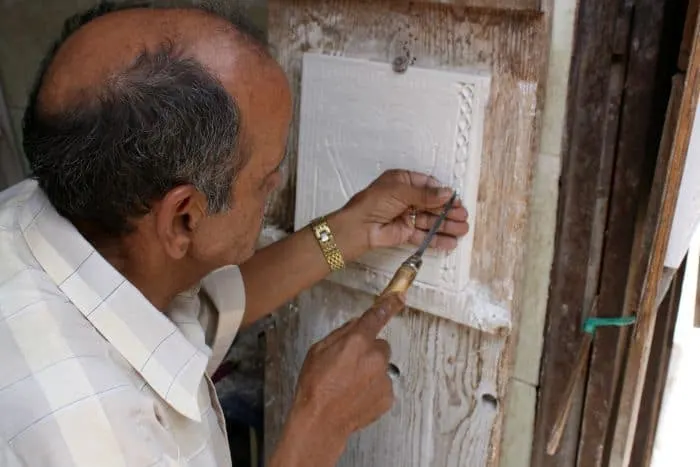 Nearly every house and riad in the country features intricately carved plaster pieces around the edges of room or chandelier. Years ago this was all done by hand and carved in place. Today shortcuts are taken to make this design affordable to everyone. Lighter plaster is carved in workshops and then adhered to the walls. In Marrakech there are only a handful of men who still do the original style of carving and they are some of the most skilled artists I've met. Using simple hand tools like chisels they carefully remove semi-wet plaster to create geometric designs in a wide variety of styles.
Leather Work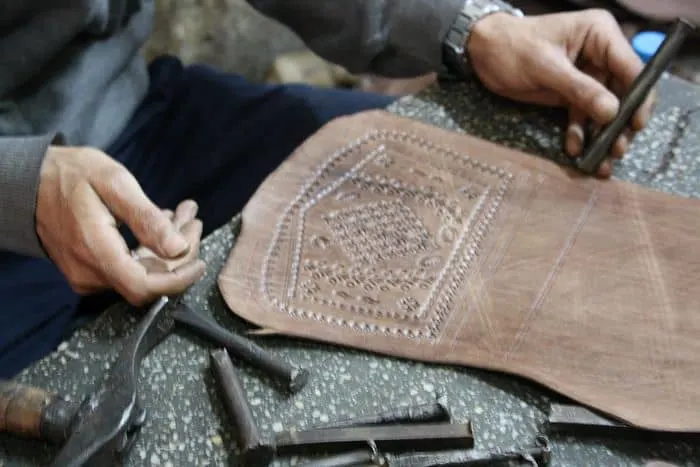 There's possibly no trade that is more respected in Morocco than leather work. Men work in all stages of the trade. From the butchers who collect the animal skins to the tanners who prepare and work the skins. There are men who dye and dry the skin. Then it is used in any number of ways from creating leather bags (like above), to making boots, or the tops of traditional Moroccan drums. In the souks of Marrakech you can see all stages of the process if you know where to look. I love the workshops where it's possible to see the creation of new designs. Every time I go I spot a new style or design. Not to mention anything I could dream up, they can make!
Zellige (Tile) Work
Moroccan tile work is the most amazing decorative feature. Today, large tiles are purchased with the geometric designs printed on them. But, for those who want the authentic look of individual tiles it's still possible. Each of the tiles is chipped by hand. It's then put in place UPSIDE DOWN! The person assembling remembers the pattern and which colors are where strictly from memory. When the pattern is set, concrete is poured on the back to hold the pattern together. This completely blows my mind!
When we stopped at this shop we learned the shop owner worked with the Moroccan artists association to train new zellige artisans in the trade. They begin with chipping shapes and work up to assembling simple designs. When I told him how valuable a skill he had and how in other countries this skill would come with a really good paycheck he was surprised. I also asked him if there were people still wanting to learn the trade. In recent years he said there's been an increase of apprentices who want to learn – good news! It can take years to learn how to consistently chip the right size and shapes of tiles, and then many more to learn the patterns to assemble.
I hope you've enjoyed learning a little more about Morocco's artists! If you'd like to see them at work and try your hand at some of these trades and you'll be in Marrakech.